As we're going to Seoul for christmas and we will meet tons of people we had to bring presents, swiss presents. That means of course lots of chocolate and cheese. Luna filled our luggage with food so much that she even forgot to put my pants in there. Hopefully I double checked it and noticed the missing pant. But my main concern was about weight.
Luggage BMI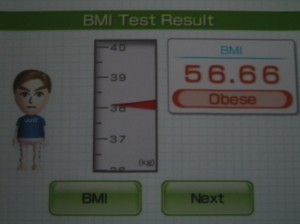 Maximum weight is 20 kg per person, that's 40kg for us. Chocolate is pretty heavy and when I tried to carry our luggage that seemed to be quite heavy. Hopefully Wiifit was there to help us ! Our luggage is obese according to Wiifit (80cm for 38kgs). But that's not over 40kg, so it'ok. Or so we thought…
At the airport we learned that there is limit per luggage as well which is of 32 kg. So we had to open up our luggage in the middle of airport to take out all heavy chocolate. Then I had to carry around over 6 kg of chocolate in my hand luggage, but at least we didn't have to throw anything away.
Arriving
After a quick stop in Santa's homeland we arrived in Seoul this morning. We've been picked up by Luna's father and quickly reached home where Luna's mother waited for us with Bulgogi. Yummy! I then slept all day, because I couldn't resist free movies in plane and didn't sleep at all. I've been woken up for meal, crabs. Hard to eat, but yummy! I even tried to mix rice with crab's brain. But Luna told me it was actually guts… was almost yummy though… maybe I'll get used to ;-)