'My birthday is coming closer~ Another Drunk party :D ' That's what I thought at the begginig of August. So I texted all my friends to organize BBQ on the lakeside. But I thought that KiKi would give me some event on 15th so I fixed the party date on 16th Saturday. As I expected, most of my cool, lovely friends said Ok except few busy friends, so I couldn't notice KiKi's secret plan at all :)
Time has flown, it's my birthday, today.
It's cloudy Friday morning, my husband's gone to work, I was still rolling on my bed. (I'm on school break :D)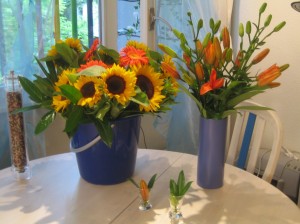 BZZZZZZZZZZZZ…BZZZZZZZZZ…(It's my house's ugly doorbell sound. I'm sure that this appartement designer was a deaf -_-; )
'What the…Who is disturbing my lovely lazy morning, huh?'
I thought like this a second but I got up like a jumping spring because I was sure it's one of the birthday event from my lovely husband, nyahahah! Flower? Hum, a giant size bouquet :) Oh, it's from my father in law, how thoughtful he is~ My birthday started well.
Time to call to my parents. Not because it's my birthday but Friday is home calling day.
"Happy Birthday to my doughter." I've got a cake present to my bank account from my parents.
Ok, then let's refresh myself. Happy morning bath~ Lalala~~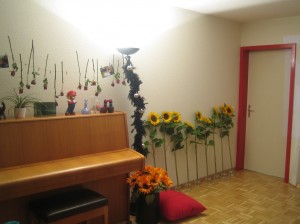 BZZZZZZZZZZZ…BZZZZZZZZZZZZZZ….
'Oh, shit, I'm nakid. Who the hell is this.'
It wasn't good timing. I wore some clothes quckly whatever I could pick up around me and I ran to door.
'Oh, my gosh, what I'm gonna do if the delivery guy fall in love on my sexy wet hair and clothes. '
Opening the door, I thought this and it really happened :D The delivery guy gave to me a bunch of Sun flower (My favorit flower~) and kissed me. And he came in the house and start to cooking. But fortunately, it didn't cause any problrem on my perfect life, not because my husband couldn't know this but the delivery guy was my husband :D Oh, he mustbe took half day off for my birthday. How lovely he is~
We had steak cheval (= horse -_-; poor beautiful animal. But frankly it's so good.) lunch and had a relaxed afternoon. Ah, actually in the afternoon, he was keep calling to somebody or recieveing some calls but I tought he was organising something for tomorrow BBQ, so I neither have doubt for the today's party nor ask him anything. (In additional, his mobile phone doesn't work well at home so he have to recieve the phone calls on the balcony. So I couldn't hear anything about the conversations.) And as I exptected, he asked me to be ready to go out but don't wear heels cuz we're going to a restaurant which is on the mountain. You know…We live in Switzerland and it's very natural. So I did as he asked me without any doubt. And we left from home.
On the way I asked him about the BBQ for tomorrow cuz we don't have a grill for BBQ. And he said his father might have one in his garage. And I asked him also if it rains what are we gonna do tomorrow and he said we might borrow his father's place. So I said that I feel sorry to make mess his place but he answered that his father will have some guest at his place today but tomorrow, he will go somewhere for weekend. That was the perfect trap but I could notice at all cuz it was me who asked all these questions. After a while, suddenly he said
'Oh, shit, I didn't bring the map which I printed. '
His nuance was so natural and his face was perfect to a guy who forgot somthing at home.
'You don't know where it the restaurant?' I asked.
'I do more or less. But I don't know exactly which road inside the village. well…I think I should pass my father's place to reprint it out'
Just at the time, we were passing his father's place and he turned his car to Pierre's (his father) place.
Flankly, at the moment, I suspected. I slightly doubt that he might have some surprise for me at Pierre's place. But when we arrived at his place, I fixed my thoughts because there were lots of cars in front of his place, that means he really had some guests at his place. So no surprise for me.
Waht a irony, after he told me that the cars were the biggest obstacle to make me belive him but because of the cars, I believed him. :)
He parked his car and said to me that I might have a look garage if there are some grills while he print out the map. I didn't wanna look for somthing without owner's permission so I hesitated but KiKi forced me to have a look, said his father would so busy to look for it for us, cuz he's hosting the visitors.
'Well, ok…then…I'll pretend to have look. Hum…by the way, how I open this garage door. -_-;'
The door was so heavy and I concentrated hard to opening it…
"HAPPY BIRTHDAY"
Kyahahahaha…euhhhh…
I was so surprised so I couldn't resist my mouth making wired sound. Inside garage, there were all my sweet friends instead of the BBQ grill.
We had pizza dinner together. It was another impressive event. I talked about 3m huge pizza, self-topping party to KiKi long time ago and he remembered this and made a outdoor pizza oven. It wasn't 3m pizza but nice enough to make me feel his love :D
That was my big birthday in 2008, on the cloudy, drizzling day.
I had so warm and happy birthday even though nobody came to the my birthday party which I organized on 16th, sunny, shiny day. ;)
I strongly thank you to all the friends who stayed outside with me on the cold day, to family who prepared all this fantastic party and to my husband who always loves me like first time :)